NEWS ARTICLE
May 15, 2023
Railveyor to Attend The Electric Mine Conference 2023 in Tucson, Arizona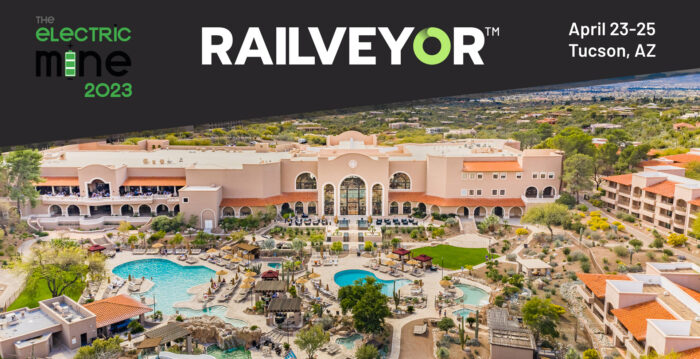 The team at Railveyor looks forward to building community and sharing insights with our peers and customers in the mining industry at The Electric Mine Conference 2023 in sunny Tucson, Arizona. Hosted by International Mining, the conference will take place from April 23-25 at The Westin La Paloma resort. Visit our booth in the main conference center and learn why Railveyor is the lowest-emission, lowest OPEX material haulage solution for the Net Zero Mine of the Future.
Attend our scheduled presentations on Wednesday, May 24th:
Improving the carbon footprint and efficiency of how material is moved 
Showcase stage – 11:30 AM – 12:30 PM local time (Wednesday, May 24th)
Jim Hawkins, CEO, Railveyor; Amber Bieg, Sustainability Consultant, Warm Springs Consulting & Charles Gillies, Director, RCF Jolimont
It's estimated that 4-7% of global greenhouse gas (GHG) emissions come from the mining sector's direct emissions. Including embedded emissions, the sector accounts for 28% of global GHG emissions. Diesel fuel is often the largest source of direct GHG emissions, and haulage the main contributor. If a mine can electrify its hauling operations, it can significantly reduce GHG emissions and lower costs, however this brings a new and unique set of challenges. This session will review a study comparing GHG emissions and operating and capital costs associated with seven haulage options – one of which is Railveyor, a fully electric light rail-based TrulyAutonomous system that offers the best energy efficiency in material haulage available today.
Rail-Veyor at Doe Run Casteel: Implementing innovation through collaboration
Main Stage – 3:30 PM – 4:30 PM local time (Wednesday, May 24th)
Jim Fisk, Executive Director, Railveyor & Steve Dismuke (retired), former Technical Services Superintendent at Buick Mill, Doe Run
Jim Fisk of Railveyor and Steve Dismuke of The Doe Run Company (retired) will discuss leading the implementation of innovative technology and how suppliers and mining companies can support one another. They will tell the story of the commissioning of the Railveyor system at Doe Run's Buick-Casteel Mine in Missouri, reflecting on the values that made the experience a success – willingness to take calculated risk, perseverance, transparency and continuous improvement. With decades of experience behind them, this talk is a must-see for those who want to see innovation made real.