NEWS ARTICLE
December 3, 2022
Railveyor™ Material Haulage System Hauls Over 10 Million Tonnes at Agnico Eagle's Goldex Mine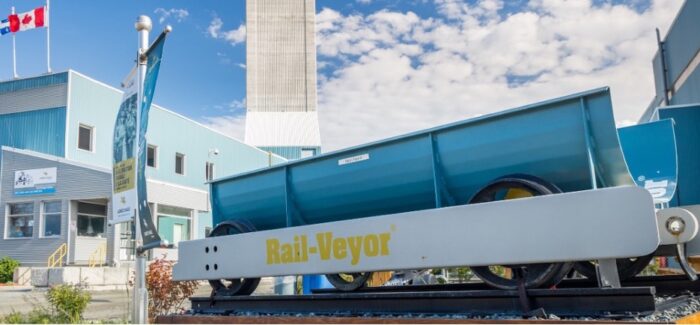 SUDBURY, ONTARIO, CANADA – December 02, 2022 – Rail-Veyor® Technologies Global Inc. is proud to announce that the Railveyor™ TrulyAutonomous system operating at the Agnico Eagle Goldex mine in Val d'Or, Quebec, has hauled over 10 million tonnes of ore since installation and commissioning was completed in 2018. Agnico Eagle Mines Limited announced in July 2022 that 1 million ounces of gold has been processed from the Goldex mine since 2013.
"In partnership with our customers at Agnico Eagle, we at Railveyor are proud to have made a small contribution towards achieving their notable milestone of 1 million ounces of gold mined," said Railveyor CEO Jim Hawkins.
Initially designed to haul at a capacity of 6000 tonnes per day, Railveyor continues to exceed expectations and set monthly records for haulage, with 248,290 tonnes of ore hauled in May 2022. According to Agnico Eagle's Q2 2022 report: "During the second quarter of 2022, gold production [at Goldex] was above forecast as a result of higher productivity from the South Zone and higher throughput from the Railveyor system."
Additionally, the fully electric Railveyor system also continues to reduce potential greenhouse gas (GHG) emissions at Goldex mine when compared with traditional diesel truck haulage solutions.
The low measured direct and indirect emissions generated by activities at Goldex support the statistic presented by AEM in their 2021 Sustainability report that their operations in Quebec are responsible for just 4% of their overall emissions.
In the Agnico Eagle Mines Limited 2021 Sustainability Report, Executive Vice-President of Operational Excellence, Carol Plummer stated: "We continue to be leaders in operating greenhouse gas (GHG)-efficient gold mines with a combined intensity of 0.4 tonnes of CO2 equivalent for every ounce of gold produced and 8 of the 11 operating mines in 2021 below the industry average."
"Since 2018, the implementation of the Railveyor system at Goldex has had a positive impact on our operations. This innovative project has had a unifying effect among our teams because all departments were able to participate in it. It also allowed us to raise the bar on our production, and it helped us achieve our environmental and health and safety goals. Today, we are still improving the system by integrating new technologies that will allow us to reach new milestones," reported Christian Lessard, Maintenance Superintendent of Agnico Eagle's Goldex mine.
Railveyor CEO Jim Hawkins also noted: "Agnico Eagle has a clear commitment to delivering solid economic results while emphasizing sound stewardship of the environment, local communities and its workforce. We are proud of the performance of the Railveyor system at Goldex mine and look forward to continued success in our partnership with AEM."
###
About Railveyor
Railveyor is a safe, clean and profitable material haulage system for the smarter, Net Zero mine of the future. Rail-veyor Technologies Global Inc. (RVTG) offers the low emission, fully-electric, battery-free and TrulyAutonomous solution to the mining and industrial materials sectors and more. The unique light rail system results in high energy efficiency, industry-leading OPEX and enhanced worker safety. The RVTG international headquarters and John McCall Testing Facilities are located in Sudbury, Ontario. The Technology Center and United States regional office is located in Houghton, Michigan.