NEWS ARTICLE
September 12, 2023
Railveyor and Mining Plus sign Memorandum of Understanding (MOU)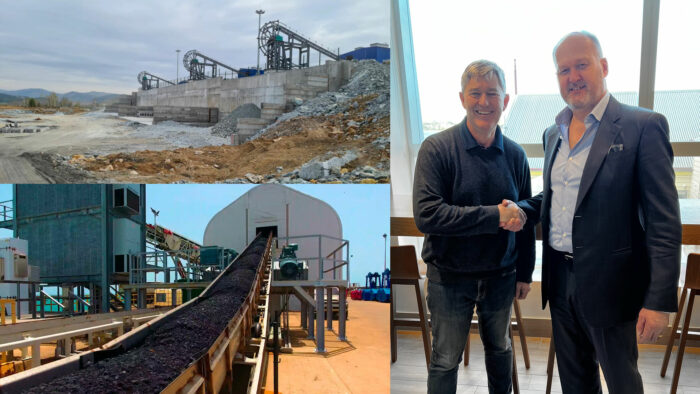 PERTH, AUSTRALIA – September 11, 2023 – Rail-Veyor® Technologies Global Inc. (RVTG) is pleased to announce that a Memorandum of Understanding (MOU) has been signed with Mining Plus, a mining technical consultancy. The agreement will facilitate knowledge sharing between the two companies. Mining Plus will gain a deeper understanding of Railveyor to conduct more comprehensive and accurate trade-off studies between material haulage methods. Conversely, the agreement provides Railveyor access to subject matter experts in automated material transportation at Mining Plus.
Railveyor is a compelling material haulage solution for the mining industry, checking the boxes of decarbonization, full automation and digital integration – among many other positives. With over 150 mining professionals on staff delivering results to 630+ clients globally, Mining Plus is well-positioned to expose the benefits of Railveyor's TrulyAutonomous, energy-efficient, low-emission material haulage system to their customers.

"The mining industry can benefit greatly by adopting Railveyor," says Railveyor Executive Chairman Charles Gillies, "By partnering with Mining Plus, we believe Railveyor will continue to be a compelling material haulage option for projects around the world."
Marco Alencar​ – Mining Plus – Manager Innovation and Growth echoed Gillies sentiments.
"Partnering with Rail-Veyor Technologies Global Inc. represents an exciting opportunity for Mining Plus to further enhance our ability to provide innovative and sustainable solutions to the mining industry" Marco said. "This Memorandum of Understanding will allow us to deepen our expertise in automated material transportation and leverage the advanced capabilities of Railveyor's TrulyAutonomous, energy-efficient, low-emission material haulage system".
Alencar went on to say "As we collaborate and share knowledge, we aim to drive forward the industry's goals of decarbonization, automation, safety enhancement, and cost reduction. Together, we can offer our clients cutting-edge solutions for the mines of the future."
"Consistent communication with the experts at Mining Plus will help us respond to what they are learning from their many clients across the mining industry," says Railveyor Executive Vice President of Sales & Marketing Nik Gresshoff, "We're excited to collaborate with another company with global reach in the mining sector – stay tuned for what's next!"
###
About Railveyor
Railveyor is a safe, autonomous, and cost-effective material haulage system for the smarter, Net Zero mine of the future. Rail-Veyor Technologies Global Inc. (RVTG) offers the low emission, fully-electric, and battery-free solution to the mining and industrial materials sectors and more. The unique light rail system results in high energy efficiency, industry-leading OPEX and enhanced worker safety. The RVTG international headquarters and John McCall Testing Facilities are located in Sudbury, Ontario, the Technology Center is located in Houghton, Michigan and Railveyor maintains offices in Brisbane, Australia.
For more information, visit www.railveyor.com. Or contact Nik Gresshoff, Executive Vice President of Sales & Marketing at +61 456 860 300 or [email protected]