NEWS ARTICLE
December 12, 2022
South American Railveyor™ System Achieves 2M Tonnes of Pet Coke Hauled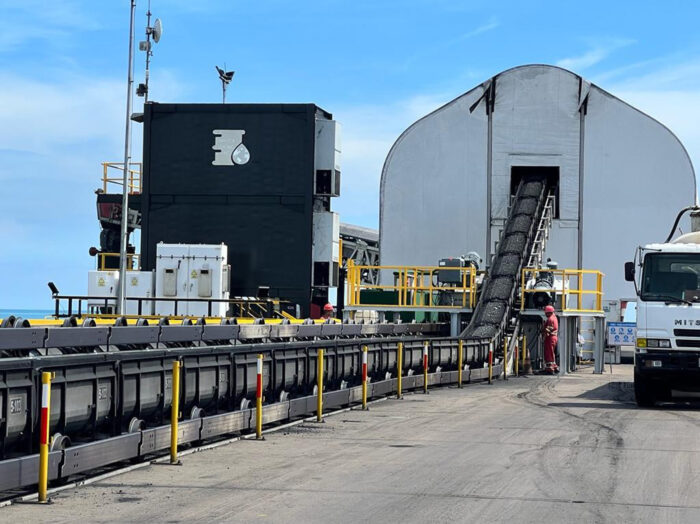 SUDBURY, ONTARIO, CANADA – December 12, 2022 – Rail-Veyor® Technologies Global Inc. (RVTG) is proud to announce that over 2,000,000 tonnes of petroleum coke has successfully been loaded to oceangoing vessels by the Maroil Trading Inc. Railveyor system. Maroil Trading's Railveyor system is composed of five (5) trains of 400m each propelled by 16 drive stations, with a single loading point and a single discharge point – making for a round trip of approximately 9200m.
Transporting this amount of petroleum coke to oceangoing vessels makes Maroil Trading a significant provider of petroleum coke to markets in India, Pakistan and other eastern countries with high demand for the material, which is used in cement production among other things.
"At commissioning we at Railveyor were confident that the Maroil Trading system would deliver on our specified design and beyond," said Railveyor CEO Jim Hawkins, "Seeing the milestone of two million tonnes hauled confirms what we believe about our system – that it is the most profitable, clean and safe material haulage solution available for the industrial or mining customer today. Hitting this target without generating significant dust and noise and virtually without the risk of fire is an added ongoing benefit to the community around the port terminal."

After only thirteen months of operation, oceangoing vessels have been successfully loaded with over two million tonnes of material. The South American project currently has a simple point-to-point design, and plans to extend the installation in the near future are under development.

"Achieving specified production goals may seem like a certainty in the planning and design phase, but during operation, an organization and a product must prove itself against real world challenges," said Ulises Armas of Maroil Trading Inc. "We are pleased that the Railveyor system has proven itself a worthy innovation that, paired with the hard work of the Maroil and Railveyor teams alike, has exceeded all expectations and is making the most of the tremendous opportunity we have here."
###
About Railveyor
Railveyor is a safe, clean and profitable material haulage system for the smarter, Net Zero mine of the future. Rail-veyor Technologies Global Inc. (RVTG) offers the low emission, fully-electric, battery-free and TrulyAutonomous solution to the mining and industrial materials sectors and more. The unique light rail system results in high energy efficiency, industry-leading OPEX and enhanced worker safety. The RVTG international headquarters and John McCall Testing Facilities are located in Sudbury, Ontario. The Technology Center and United States regional office is located in Houghton, Michigan.
For more information, visit www.RailVeyor.com. Or contact Lisa Youngblood, Vice President of Marketing and Communications at 705-682-0450 x356 or [email protected].